About Us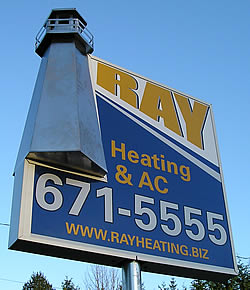 Superior Workmanship

Quality design and installation must go in before the name goes on. We are committed to providing our customers with high-quality systems that will stand the test of time.
Certified Technicians

When you call Ray Heating and Air Conditioning, you will receive service from a reliable technician who is trained and certified in the latest technologies. We have over 30 years combined experience in a wide variety of applications.All installation and service technicians are licensed and bonded.
On-time Installations

At Ray Heating & A/C we understand deadlines and construction schedules. We also understand the inconvenience that occurs when a job is not completed on-time. That's why we are committed to providing timely and efficient service to insure you meet your deadline.
Our Mission Statement
To give glory to Jesus Christ by providing legendary service and heating/cooling systems for customers and contractors at reasonable prices.
The Meaning of Our name
Contrary to popular opinion, "Ray" is not the name of our owner. Rather, the inspiration for our name – Ray Heating & Air Conditioning – comes from the following definition:
RAY: 1. A) A beam of light that appears to come from a bright source. B) a graphic representation of the above. 2. Any of several lines radiating from a center point. 3. A disclosure of mental or spiritual enlightenment: as, a ray of intelligence. 4. A tiny amount; slight trace, as in "a ray of hope." V.I. To shine forth in rays; to radiate. V.T. To send out in rays; emit.